Social Responsibilty
social
responsibility
matters
Eastern proudly supports
organizations like Kids' Chance
that enrich the communities
and families we are privileged
to serve.
Hope and opportunity for children of injured workers.
Kids' Chance is just one shining example of Eastern's commitment to social responsibility. Through educational opportunities and scholarships, Eastern and Kids' Chance organizations deliver hope and opportunity to children whose parents have been killed or severely injured on the job.
By investing in our children's futures, we can provide them with the tools to be successful in the workplace, so they can make a difference in their own and other people's lives.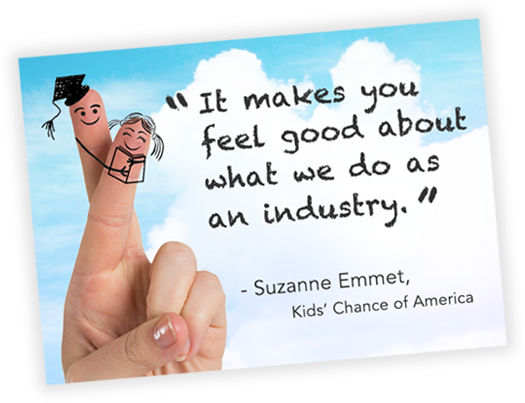 How we support families
Through financial, volunteer and leadership support, Eastern partners with Kids' Chance organizations in Indiana, Maine, Michigan, Mississippi, New Jersey, North Carolina, Pennsylvania, South Carolina, and Virginia. Together, we make a difference in the lives of children affected by their parents' workplace injuries.
Scholarship opportunities
Financial burden often results from the death or injury of a parent due to a workplace accident, making it difficult for deserving children to pursue their educational dreams. Eastern is proud to directly support Kids' Chance higher education scholarships in Pennsylvania and New Jersey.
Learn more
If your family has been affected by a work-related accident, you're not alone. Visit KidsChance.org to learn more about its mission and potential financial support opportunities in your area.