Unite Best In Class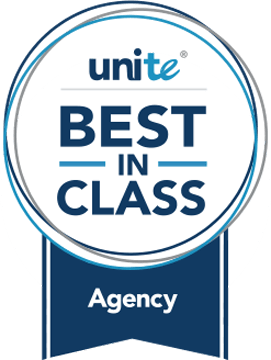 Recognizing outstanding members of the unite community!

We appreciate the value of outstanding agent representation. unite is a best-in-class brand with best-in-class agency partners. Our unite Best-In-Class Program recognizes the top agencies that demonstrate hard work and exceptional client service as upstanding members of the unite community.
The following Eastern Alliance agency partners are recognized with the 2023 unite Best-In-Class designation:

Considerations for Best-In-Class designation include:
Encourage participation in Eastern's webinars and training sessions
Interact regularly with their service team
Partner with Eastern for presentations and newsletter/blog articles
Inspire clients to adopt a Return to Wellness philosophy
Promote a Safety First mindset and use risk management and N3L3® materials
Utilize unite materials to tell the brand story to potential clients
Emphasize unite value-added services
Leverage eaport to efficiently submit business
Investigate opportunities for rollover books
Recommend the parallel pay® pay-as-you-go program to suitable clients
Promote Eastern on their social media platforms

Best-In-Class agencies receive exclusive benefits! A few of those benefits in 2023 included:
Promotion through LinkedIn posts
unite Best-In-Class badge for their marketing and social media use
Options like charitable contributions, billboards, postcards, and print ads
The unite Best-in-Class designation is awarded annually based on an agency partner's qualifications and collective achievements.
Evaluate: unite Underwriters and Marketing Reps evaluate agencies on a variety of production and relationship factors to determine nominations (agency must meet threshold criteria).
Discuss: Nominations are presented to and discussed by the Best-in-Class committee for consideration.
Vote: Nominated agencies are ranked on various categories.
Win: Winners are notified and start enjoying their benefits.